Latest Version 2.0 Release June 23, 2018 Click HERE to view the Change log

Replace Sebwite SmartSearch by CleverSearchAutocomplete extension

Big improvement: Add Adaptive Images feature. Images served will be appropriate to the user's screen size, which means faster loading & less bandwidth.

Adaptive Images detects your visitor's screen size and automatically creates, caches, and delivers device appropriate re-scaled versions of your web page's embeded HTML images. No mark-up changes needed. It is intended for use with Responsive Designs and to be combined with Fluid Image techniques.
Why? Because your site is being increasingly viewed on smaller, slower, low bandwidth devices. On those devices your desktop-centric images load slowly, cause UI lag, and cost you and your visitors un-necessary bandwidth and money. Adaptive Images fixes that.

Improve Countdown function: Now you are able to disable/enable it on Theme Settings

Add option to upload background image for topbar promotion box
Fix error sometimes olw-carousel not working
Fix issue that not able to translate some text in CleverCookieLaw and CleverProduct extensions
Removed unused code from Magento 1
[CleverLayeredNavigation] improve speed render layer navigation
[CleverProducts] Improve lazy load function to increase page speed
[Shop Page] Improve lazy load function to increase page speed
Improve Sticky Add to Cart style
Minor CSS improvements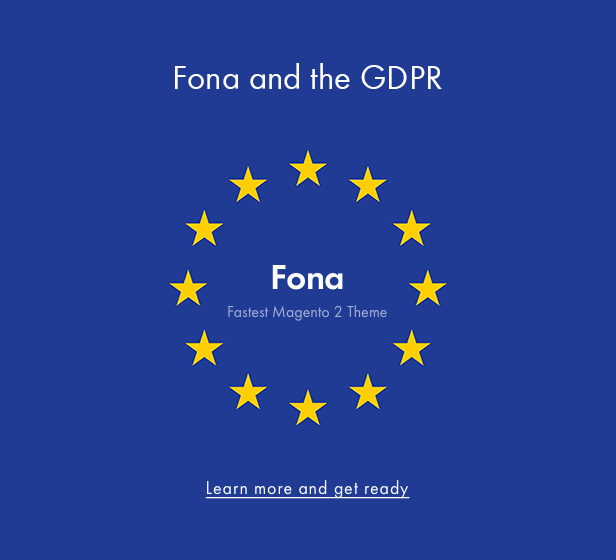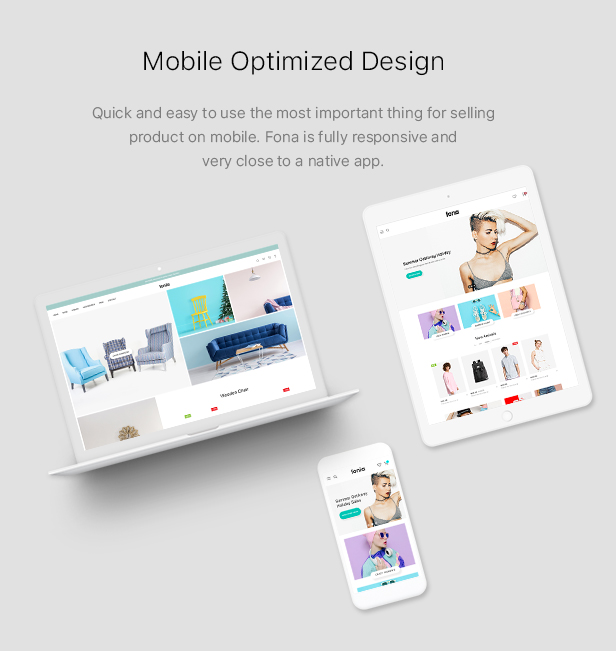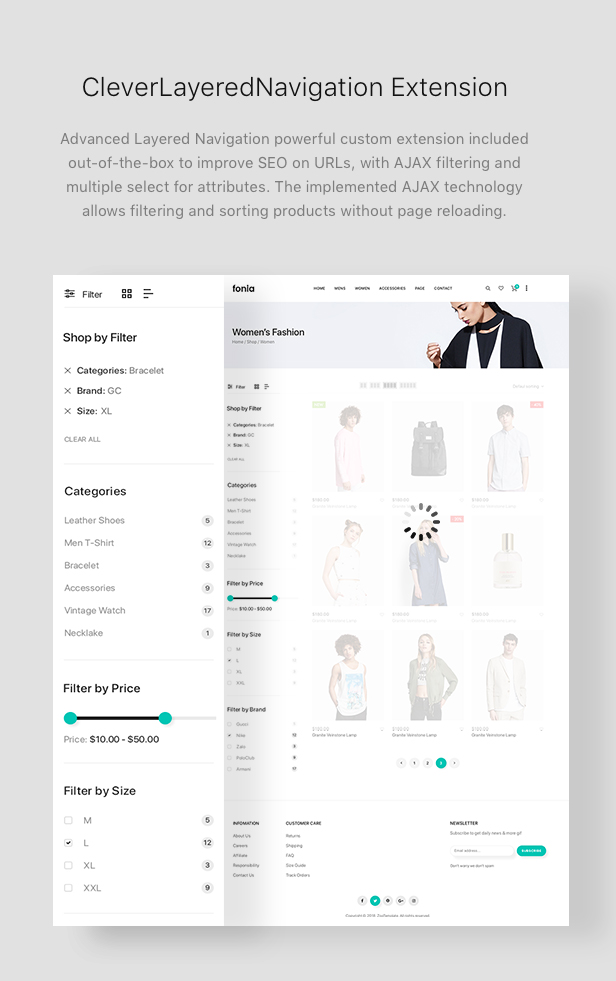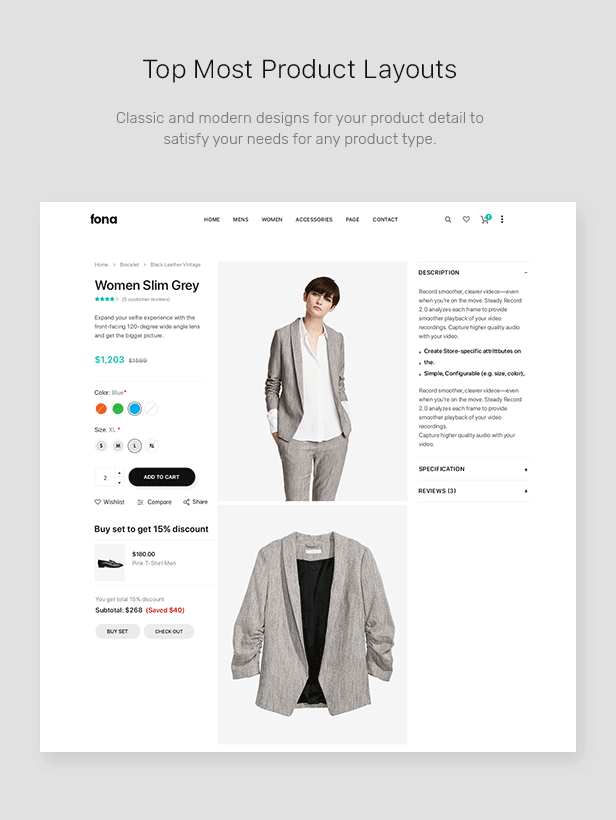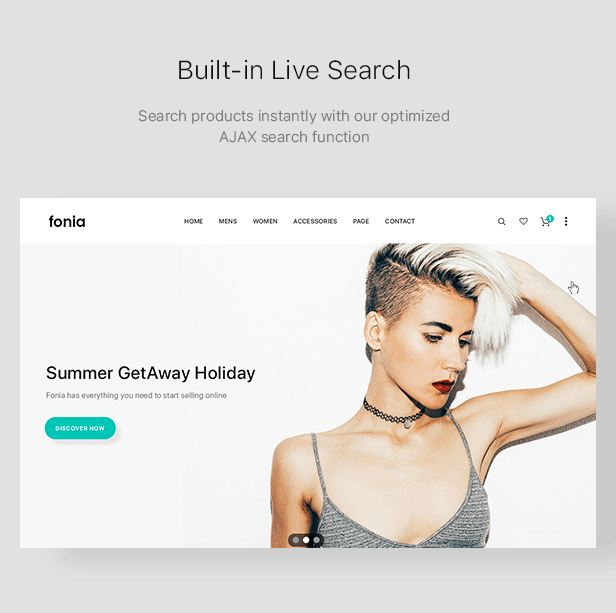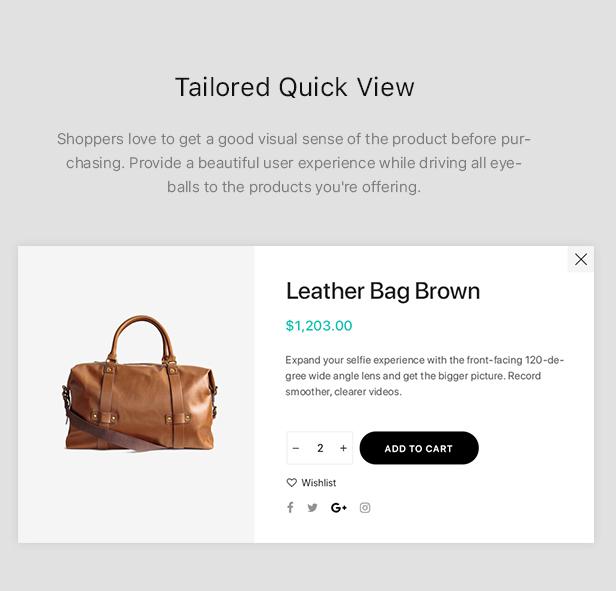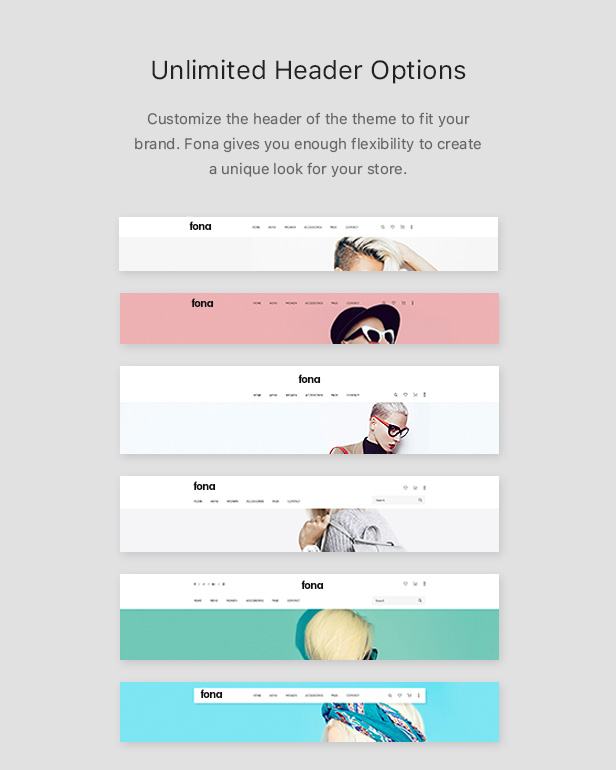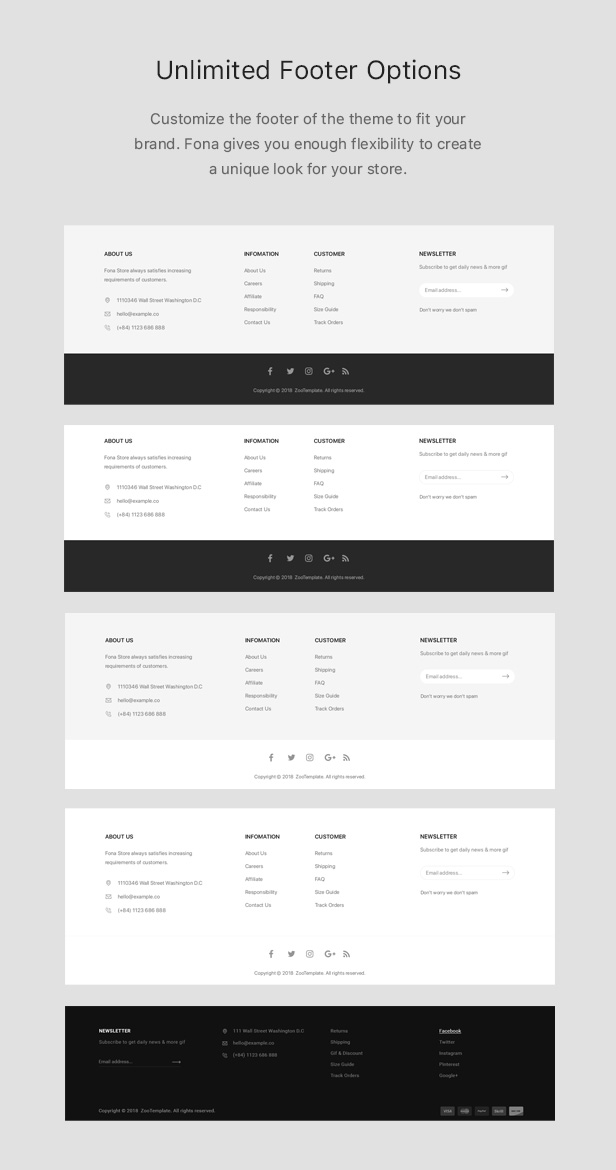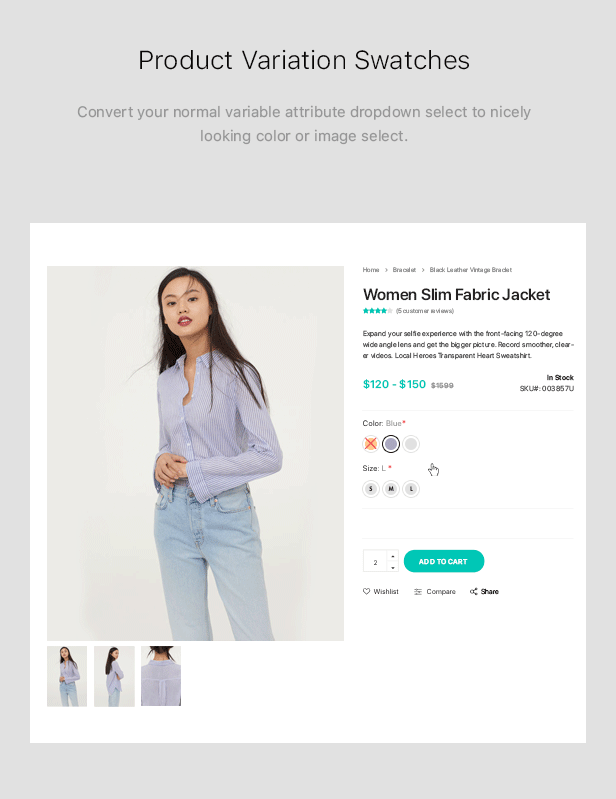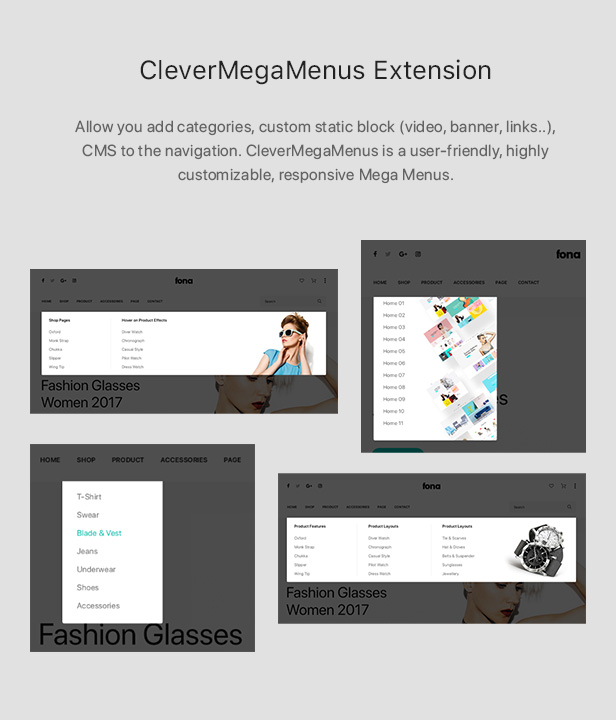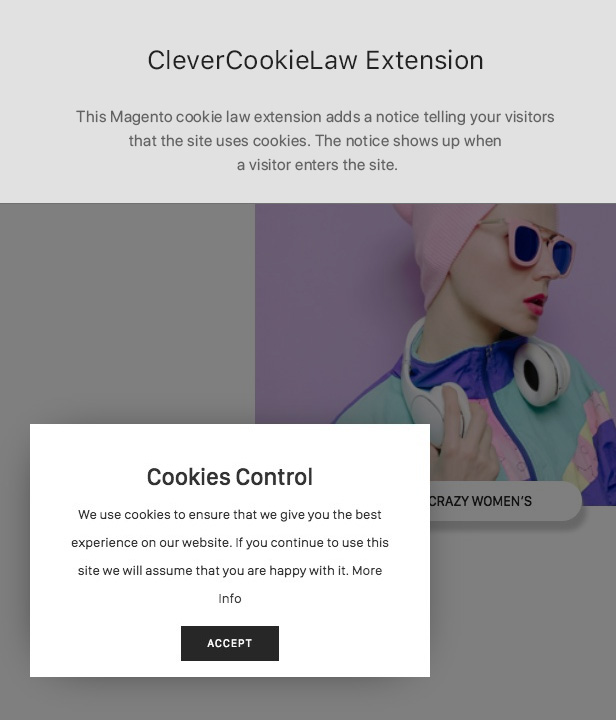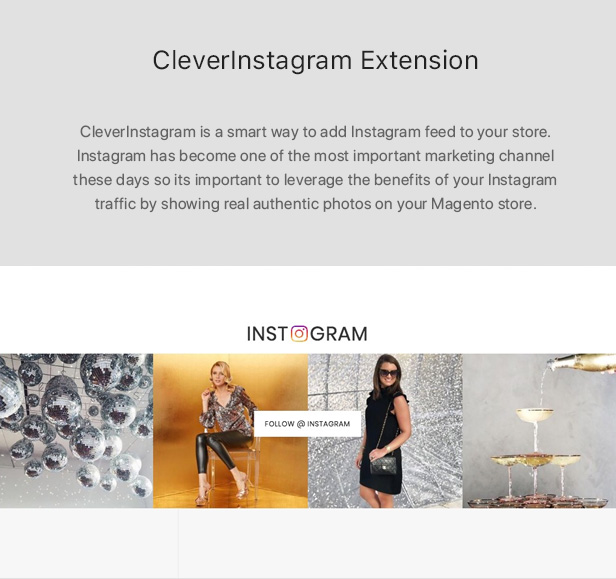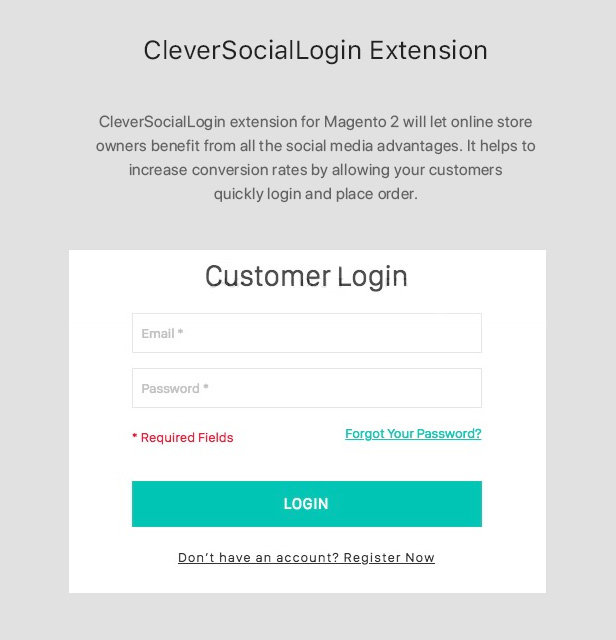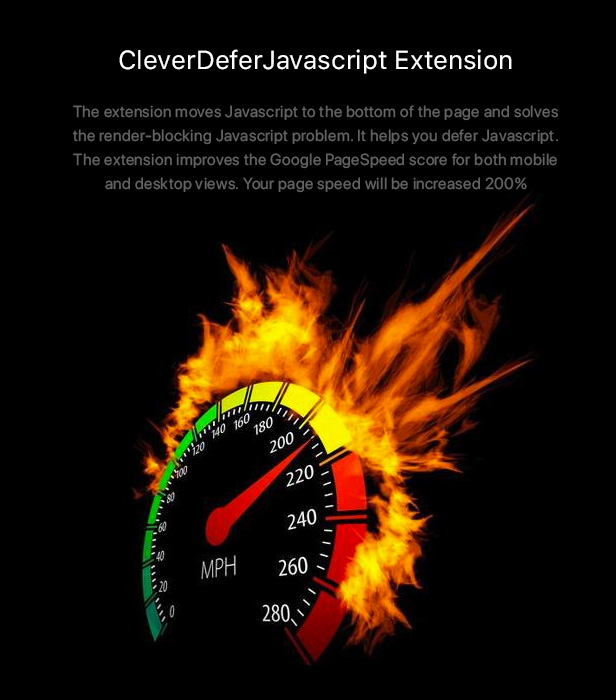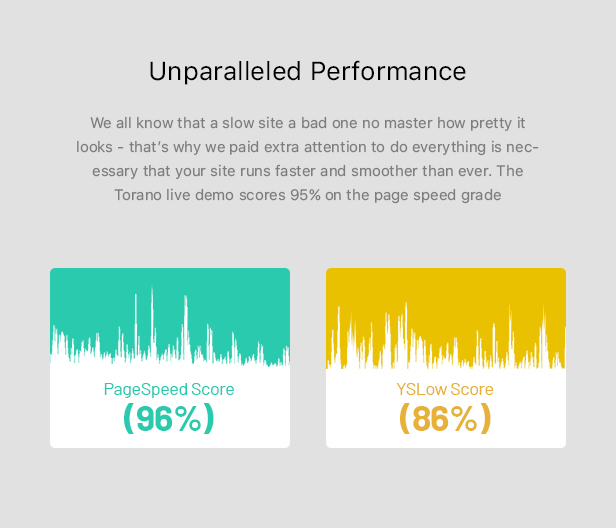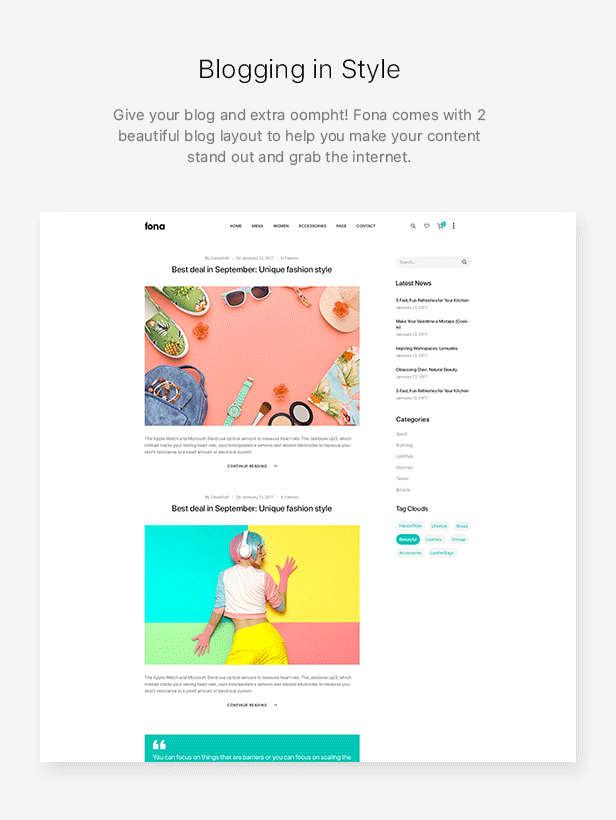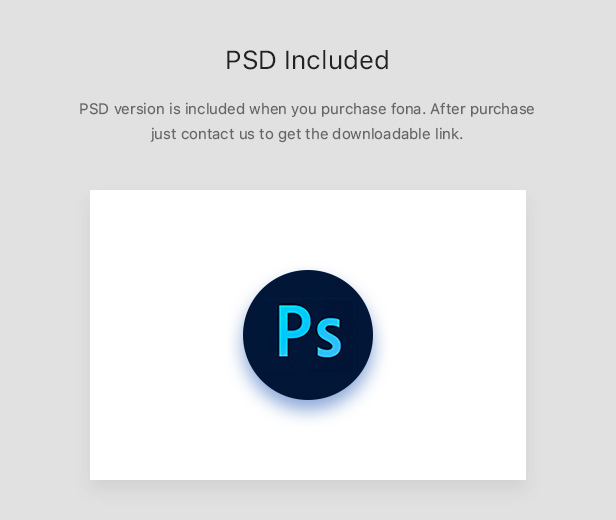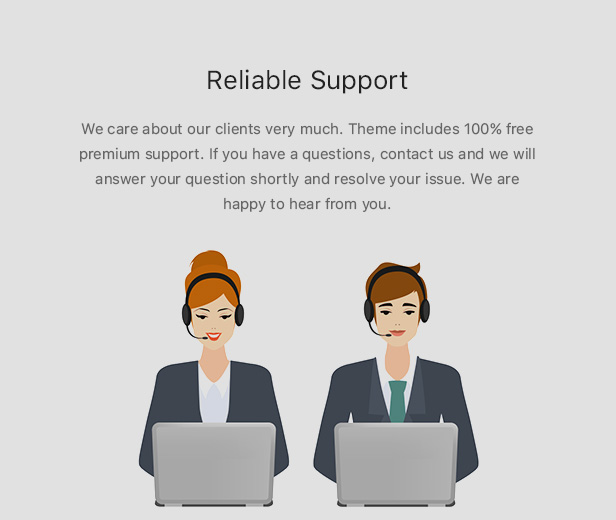 Fona is a clean & minimal Magento theme for shopping online stores. With design minimal and focus on products, Fona will make your online store look more impressive and attractive to viewers. With this Magento 2 theme you can use it for a lot of e-commerce website such as fashion store, furniture store, decoration store, etc.
Magento 2.2.x Compatibility
Please check this chapter to know How to upgrade Magento from version 2.1.x to version 2.2.x
Magento 2.0.x, 2.1.x, Compatibility
Key features
CleverBlock (Save $100) – Many times, image banners come in handy as they are very convenient and obvious way to deliver your message precisely. This element will display those image blocks in a nicer & interactive way.
CleverBrands (Save $100) show all product brands on the home page (or on any other CMS page).
CleverCookieLaw (save $100) – This Magento cookie law extension adds a notice telling your visitors that the site uses cookies. The notice shows up when a visitor enters the site.
CleverInstagram (save $200) – is a smart way to add Instagram feed to your store. Instagram has become one of the most important marketing channel these days so its important to leverage the benefits of your Instagram traffic by showing real authentic photos on your Magento store.
CleverLayerNavigation (save $100) – Advanced Layered Navigation powerful custom extension included out-of-the-box to improve SEO on URLs, with AJAX filtering and multiple select for attributes. The implemented AJAX technology allows filtering and sorting products without page reloading.
CleverMegaMenus (save $199) – Allow you add categories, custom static block (video, banner, links..), CMS to the navigation.
CleverProducts (save $300) – Showcase top products of your store in an eye-catching and attractive sliding gallery. Depending on the place of block displaying, you can select horizontal, vertical, list, grid, tabs layout type.
CleverQuickView (save $100) – The goal of the Quick View feature is to minimize the numbers of clicks and help shoppers initiate their ordering more easily and efficiently.
CleverSlider (save $200) – image slideshow can be displayed on any CMS page and in any static block with simple shortcode. Show any content in your slides (clickable or non-clickable images, complex HTML, anything), add captions above images.
CleverSocialLogin (Save $159) – Social Login extension for Magento 2 will let online store owners benefit from all the social media advantages. It helps to increase conversion rates by allowing your customers quickly login and place order.

The fact that a lot of information is required when creating a new account, this can discourage customers to shop on your website. However, most of the people already have social accounts such as Facebook, Google, Yahoo, Twitter, LinkedIn, Live etc. Why don't you enable them to use such accounts to log in by using our social login extension? Customers just need to click on the account button they like, and then enter their username and password!

Off-Canvas Shopping Cart (save $100) – Allow your clients to see the products they've selected in a glance, with the possibility to add or remove products without being forced to navigate back and forth across the site.
CleverDeferJS (save $100) – We have to implement defer javascript loading as a theme core feature. The extension moves Javascript to the bottom of the page and solves the render-blocking Javascript problem. It helps you defer Javascript. The extension improves the Google PageSpeed score for both mobile and desktop views. Your page speed will be increased 200%
Newsletter Popup – Newsletters are important part of marketing. With its easy to customize design and display settings, the pop-up provides a simple solution to increase your newsletter subscriptions, ensuring that your customers always stay up to date about your products and services.
Customizable design – change the visual appearance of almost every element
Unlimited Layout Options – You can build almost any kind of website using CleverTheme as base. The theme has several layouts options that you can easily modify.
100% Responsive Magento Theme – CleverTheme is fully responsive and will adapt itself to any mobile or tablet device. iPad, iPhone, Android, Windows.
100% Retina Ready – CleverTheme is Retina Ready and your website will always looks perfect on any devices.
Unlimited colors – change colors of dozens of elements, apply textures, upload custom background images
Google Fonts – integration with Google Fonts
Instant Grid/List change – No more page reloading or waiting AJAX request. Just click the grid or list button and your products will change instantly with a beautiful animation.
Off-canvas menus on mobile – On small screens, the main menu from catalog and the sidebar menu from customer admin become off-canvas (app-like sliding menu)
Sticky Menus – Sticky menu (also called a fixed navigation) is basically a website menu that is locked into place at the top of the screen so that it does not disappear when the user scrolls down the page; in other words, it is accessible from anywhere on the website without having to scroll.
Long product name can be clipped – Show full name on mouse hover
Alternative images – show alternative product images on mouse hover (in category view and in product sliders)
Equal height – items in the product grid can be aligned vertically to improve the layout
Image aspect ratio – keep the aspect ratio of product images (upload images of any dimensions, not necessarily square)
Previous & Next functionality for the product view page – Now you can navigate to next and previous products without going back to listing page.
Back To Top button
Ajax Paging & Toolbar
Cloud Zoom + Lightbox – product image zoom. Use one of those methods or both at a time. Cloud Zoom can be displayed inside or outside the main image.
"New" and "Sale" labels – mark your products with eye-catching labels. Text on the labels can be easily translated to other languages
Customizable product grid – configure the display of the following elements of the grid: product name, price, "Add to cart" button, ratings (stars), "Add to wishlist" and "Add to compare" links.
Fully Responsive Grid – forget about setting column numbers for each breakpoint. Just set a minimum width for your products and they will automatically adjust to any screen size.
Sticky Add to Cart – Ensuring your buy button is always on screen regardless of where your visitors are on the page means that you're consistently encouraging them to take a desired action. This small, but effective, interface tweak can increase the likelihood your visitors will add an item to their carts as soon as there is even the slightest interest. And considering there is a greater chance for your mobile browsers to exit at any given point, a sticky call-to-action can be the difference between a customer that buys and one that bounces.
Header & Footer Options – Customize the header and footer of the theme to fit your brand. CleverTheme gives you enough flexibility to create a unique look for your store.
Support Right-To-Left Language – CleverTheme is ready to work with the languages that are written in RTL direction
Custom CSS – You can always integrate your custom css codes and customize themes just the way you like. All the CSS styles added to this file will not be lost after upgrading the theme in the future
SEO Friendly – Coded with best SEO practices, so your content will index correctly in search engines and you will get a lot of visitors by search engine results.
Rich Snipets – make the most of your SEO with the automatic Rich Snipets included, as recommended by Google.
1 Click Demo Importer – Installing and setting up CleverTheme is incredibly simple. Just select your preferred demo and within minutes you will have a full store installed so you can use it as a starting point for your own site
Instant Search AutoComplete- Your visitors would get the most relevant search results, and personalized product and query suggestions – from the first character they type in your Magento search box. The clear, concise suggestions attract visitor attention to products that match what they are looking for. Once a visitor selects a product from the list, she will get immediately to that page. With Instant Search AutoComplete you can engage your visitors straight at the search box, before they even hit "Enter" be that on their desktop, mobile or tablet!
Centered or left-aligned – align grid elements to the center or to the left
Size of elements – control the size of the elements: product name, button, product labels
Optimized for Speed – We all know that a slow site is a bad one no matter how pretty it looks – that's why we paid extra attention to do everything is necessary that your site runs faster and smoother than ever.
Clean Code
Novetty conforms to the best coding practices when it comes to HTML, CSS, PHP and JavaScript. We hate clutter and all our code is simple, clean and easy to read. This is especially important if you want to edit the code yourself. We've implemented the latest HTML5 and CSS3 techniques along with cutting edge Magento standards to ensure that your theme will give you the best possible experience in terms of the latest web features and faster page load times.
Disclaimer
The photos used in our live preview are not a part of the demo content. All photos can be downloaded from unsplash.com OR purchased from shutterstock.com