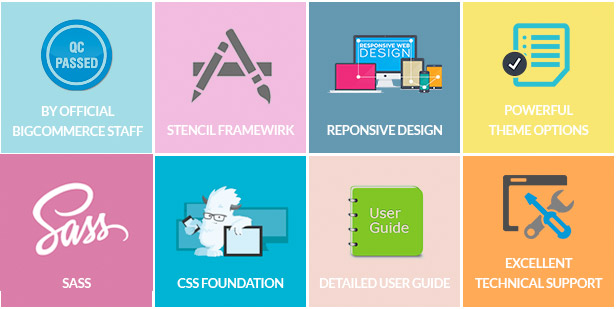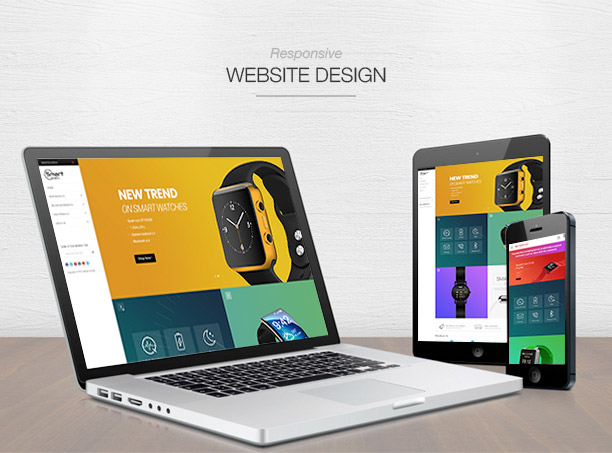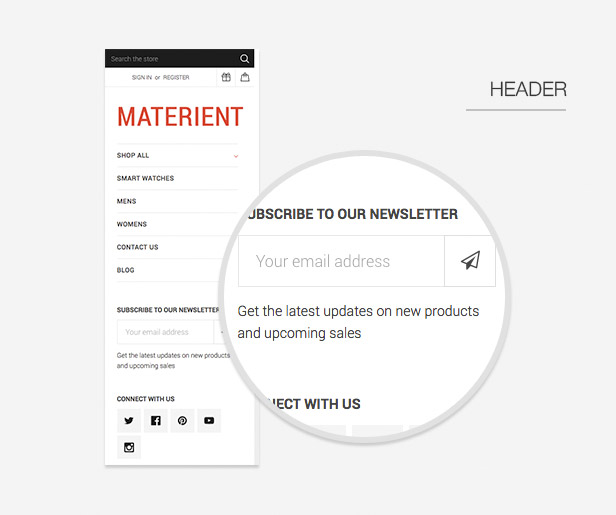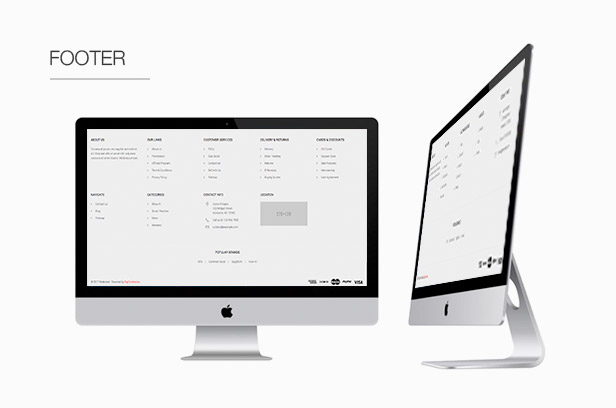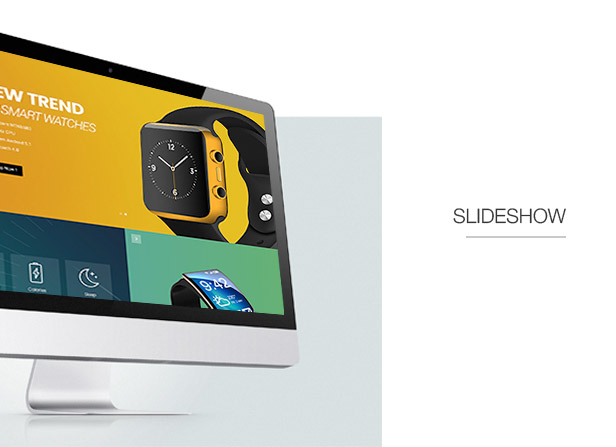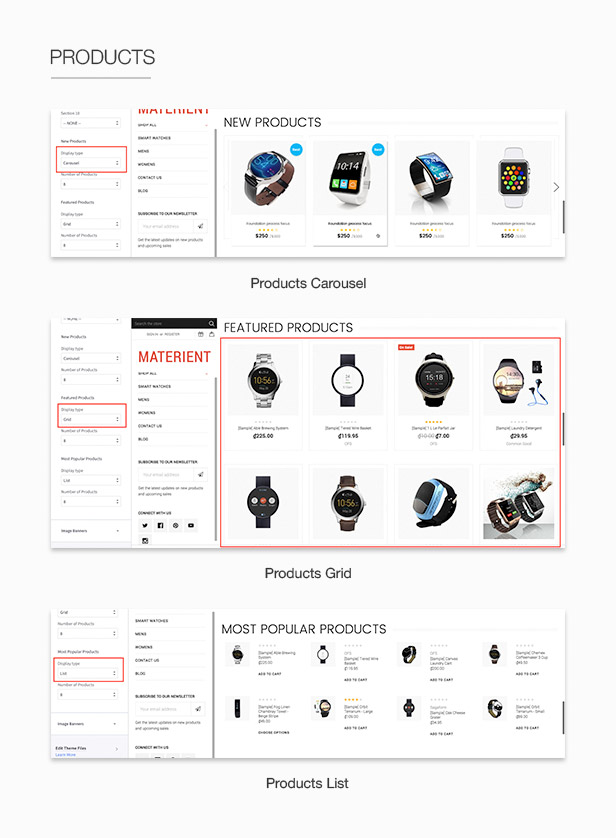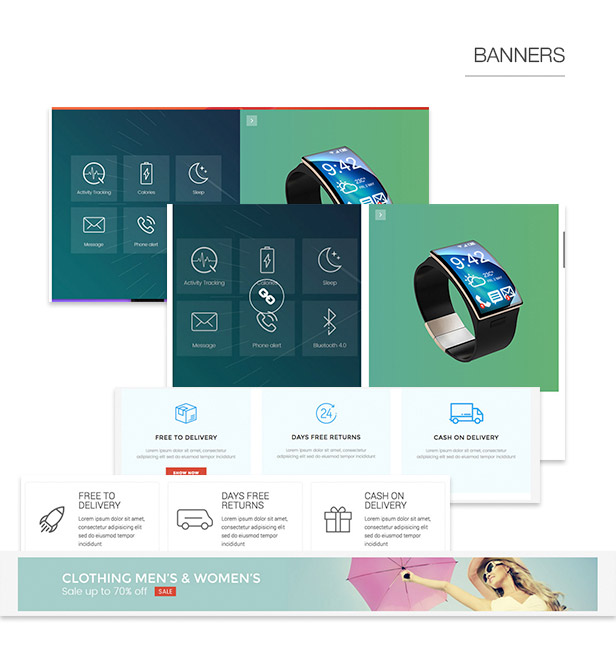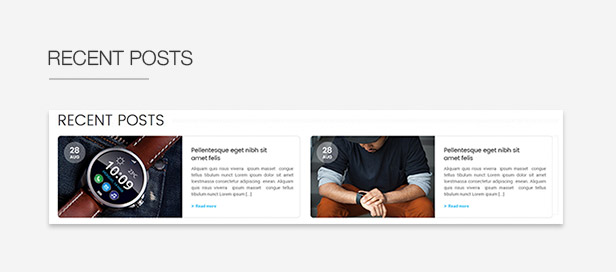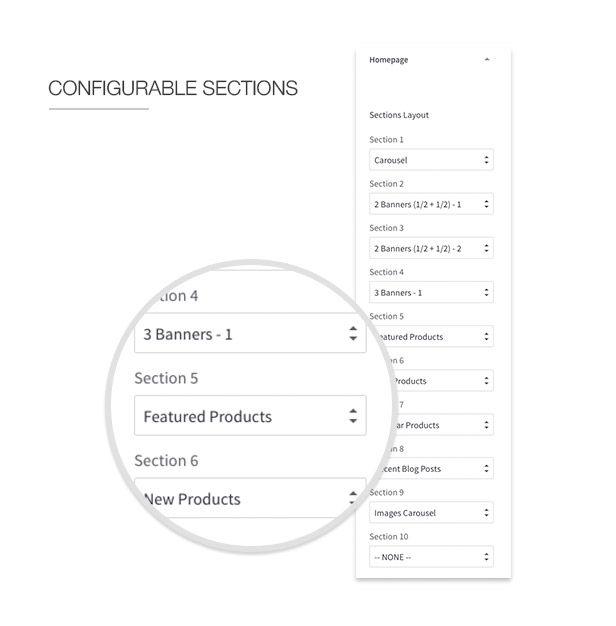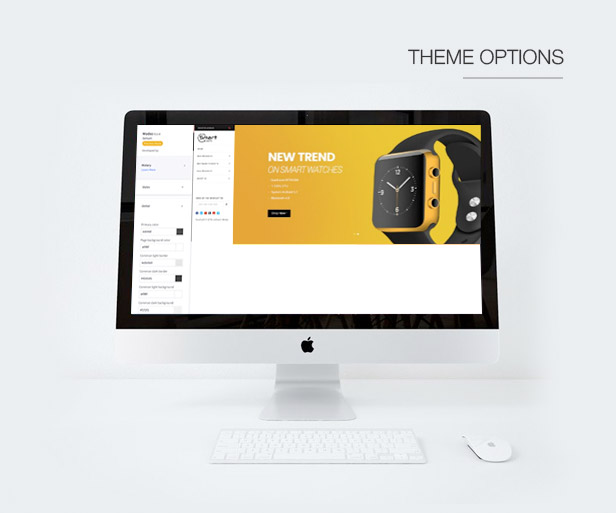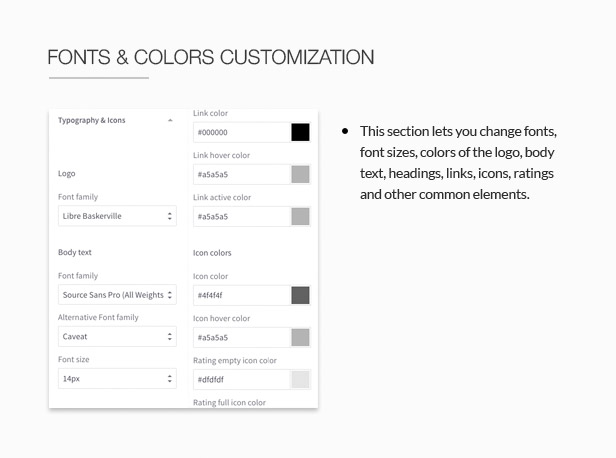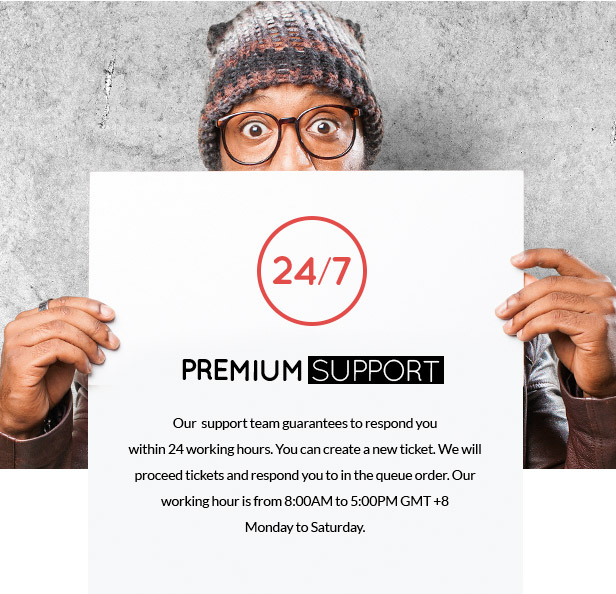 Stencil BigCommerce Theme Materient Smart Watches
Opening an online store of your own, for yourself is no longer a crazy idea. This is because of inexpensive and non-laborious BigCommerce platform has been born. Stencil BigCommerce theme Materient Smart Watches was developed based on one of the most popular e-commerce solutions recent days. Many thanks for an easy to use and ready to grow online store builder, so that you now will find running a small business by yourself is not that difficult.
First of all, Materient Smart Watches is modernly beautiful which cannot be denied. The design seems like a statement of revolution. We show less for more. Homepage is simply divided into color – blocks. As a result, layout is clean and organized. Then, visitors are easily catch attention in highlighted products. That is an effective way to increase sales, not require much effort. So smart, the design itself drives revenue.
Moving on to features, Materient Smart Watches BigCommerce theme has all it takes to be your ideal theme for your shop. The shop can be a home of watch collections, or may be an accessories store and more. You will be provided mega menu, special deals for products and categories showing. There will be whole group of social networks and inbound Blog for experience sharing. Besides that, it is icons, banner and footer for branding. You have nothing to worry about the theme' functionality and flexibility. An all-in and feature-rich e-commerce solution is an easy option. You will have everything you need, integrated in one place and ready to use. On the other hand, unlimited support of developer team, it is totally customizable.
No more saying, you should have known this is the template for your dream by now. All you need is there, available. Get it started with your hands clicking a few more steps.
Most awesome features that you can only found in this BigCommerce Theme
Materient Smart Watches theme is tested and QC passed by BigCommerce official staff before release for selling.
Built with Stencil framework. 100% Compatible with BigCommerce latest version.
Google AMP (Accelerated Mobile Pages) supported.
Optimized Checkout supported. Google reCAPTCHA V2.
Akamai Image optimized automatically.
Responsive web design (RWD): Support mobile, tablet, small screen desktop and large screen.
Mega menu – multiple column menu drop-down supported.
The homepage includes many useful content, banner, and product sections for e-commerce stores like:

The main slideshow using slick carousel javascript, fully responsive and fast.
Nice designed banners with default, boxed and metro styles. Each style supports 2 banners, 3 banners or full-width banner. Each banner style can display up to 3 different instances. Just input heading, content, button, links and images. No coding required. Multi-languages supported as well.
New products, popular products, bestselling products blocks. All these blocks can be configured to show up as grid, carousel, or column listing. You can also configure number of products, number of columns to display.
Recent posts block let you show latest news from your blog.
From our blog is a section which show the latest posts from your blog automatically.
Images carousel or brands carousel let you show brands images in carousel slider. Smooth and fast loading.

Header display as the main sidebar with ability to show newsletter form and social icons.
Footer supports to show your store info, address, links and your own custom links. Turn on/off any block in the theme options.
Category page, products detail page, blog, post details, contact us, and all other pages are well styled precisely and pixel perfectly.
Powerful theme options that let you customize the theme without technical knowledge required:

Fonts, typography and colors.
All static content can be edited, show on/off in the theme options panel and in the language files.
All content blocks or sections can be rearrange in the theme options without editing the source code.

Modez theme supports multi-languages, multi-currencies and all other features which BigCommerce provides.
The design is colorful, material design and gradient design. Best suitable for selling digital products, high-tech products, entertainment, smart phones, smart watches or modern devices.
Materient Smart Watches theme has detailed user guide to help you install and customize the theme for your own purposes.
Installing the theme just takes a few minutes no technical required.
Our support staffs are positive and enthusiastic to help you building a successful business.
Changelog

## 1.2.0 (2018-04-14)
- Upgrade Google reCAPTCHA V2
- Add theme option to support product image uniform
- Upgrade Google AMP support & Optimized Checkout

## 1.1.0 (2018-01-15)
- Add new menu style 'dropdown'

## 1.0.2 (2017-06-06)
- Fix product image overlaps text on product page on small screen
- Add custom.css file

## 1.0.1 (2017-06-06)
- Fix CSS product carousel on iphone/ipad
- Fix search result popup
- Show image first before product info on mobile
- Fix overlaps text on popup after add product to cart

## 1.0.0 (2017-04-04)
- Release verion 1.0.0