Latest Version 4.0.0 » Updated to Joomla 4.1.0
BIG SAVING: Are you a Developer? You love this template and other our Joomla items on ThemeForest, as well as products our official site (SmartAddons.Com)?

NOTE: Some Exclusive Joomla Templates on ThemeForest will be not included! If you have question, please contact us!
DESCRIPTION
MegaShop – Multi-eCommerce Store with JoomShopping Component
Do you want to emphasize your eCommerce store among thousands of the other ones? Let's make the difference with our new awesome design – MegaShop. MegaShop is a responsive multi-purpose Joomla template that is promoted by JoomShopping component. It has everything you need for building any online store with wide range of products types, especially furniture store. MegaShop template comes out with eye-catching design interface, clear layout and unlimited color scheme. It is extremely flexible for you to change any parameters like: color, background, layout, menu, font, language…in order to meet your own ideas.
Moreover, MegaShop provides lots of functional extensions, such as: Mega Menu with multi-columns, attractive homepage slider with many smooth effects, multi-language, multi-currency, brands slider, contact ajax, Twitter slider, product hover effect, image popup view and many more. The easy-to-custom Admin panel and detailed help documentation will help you totally build, control your store.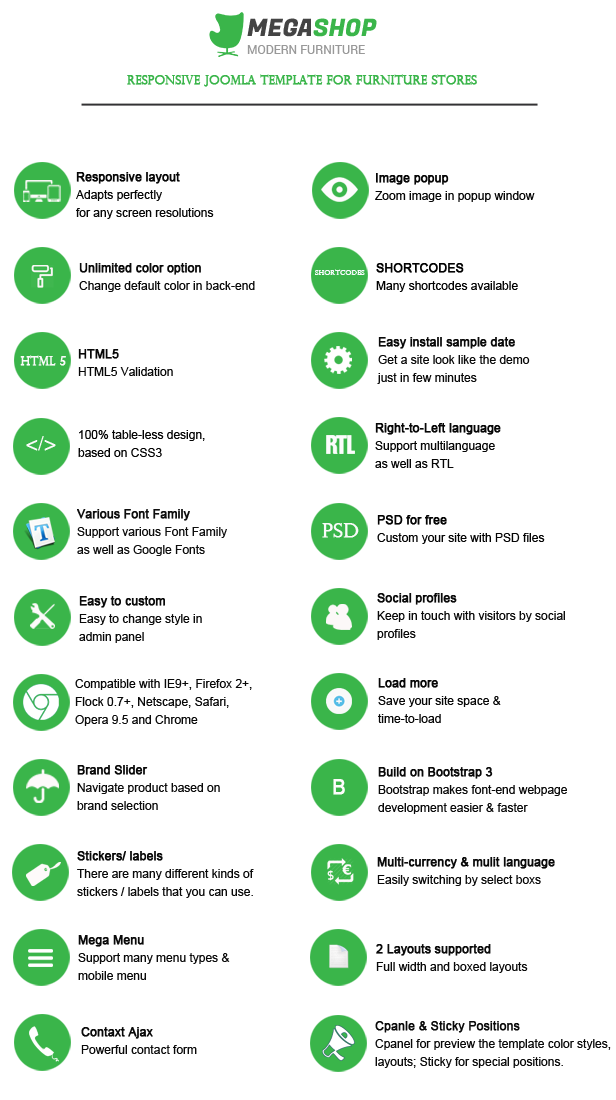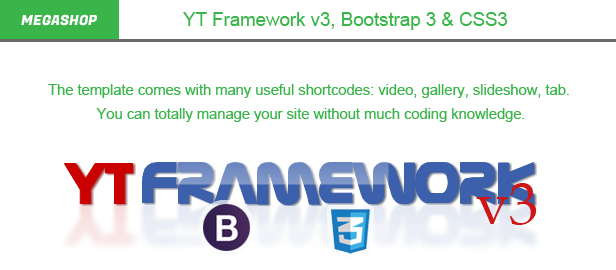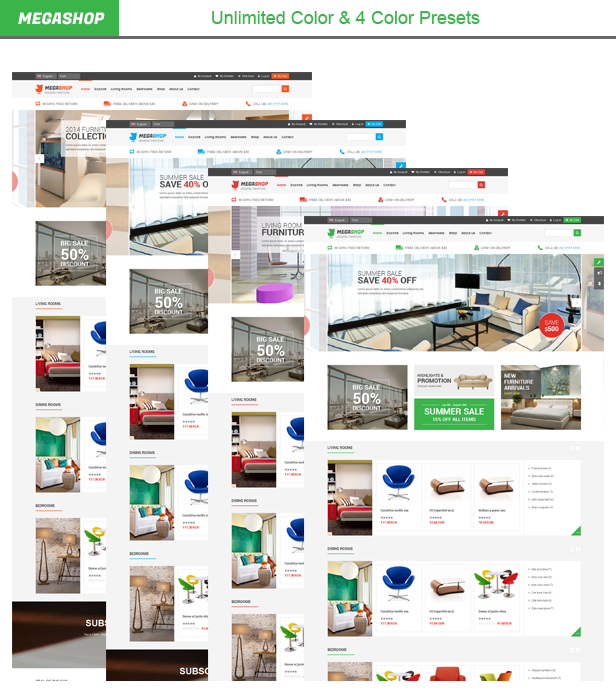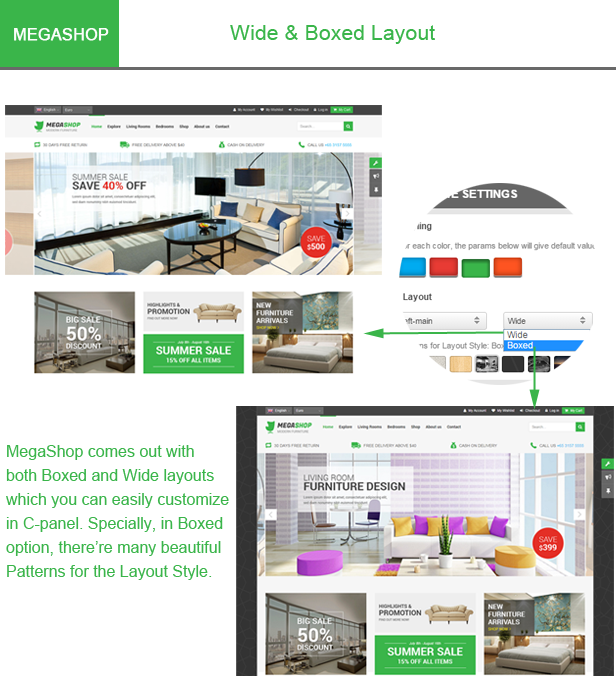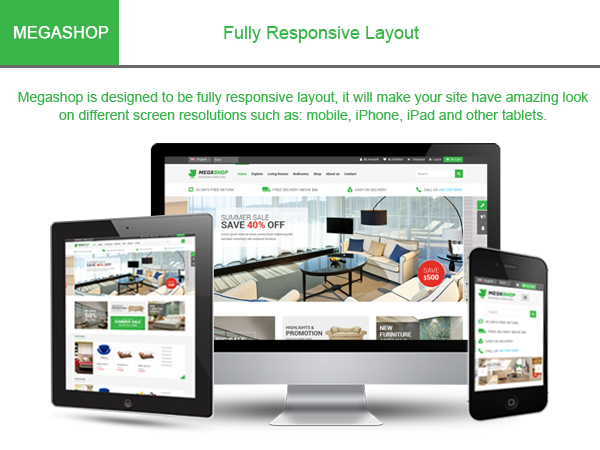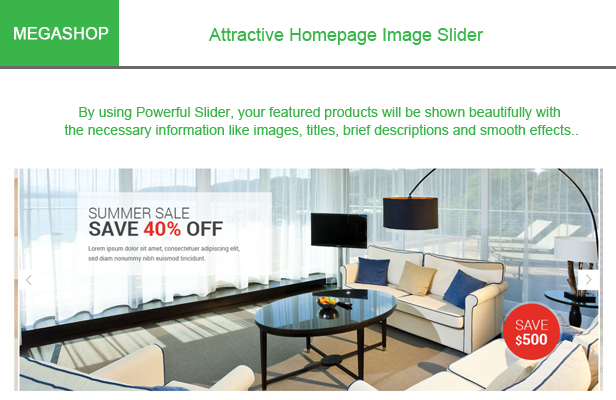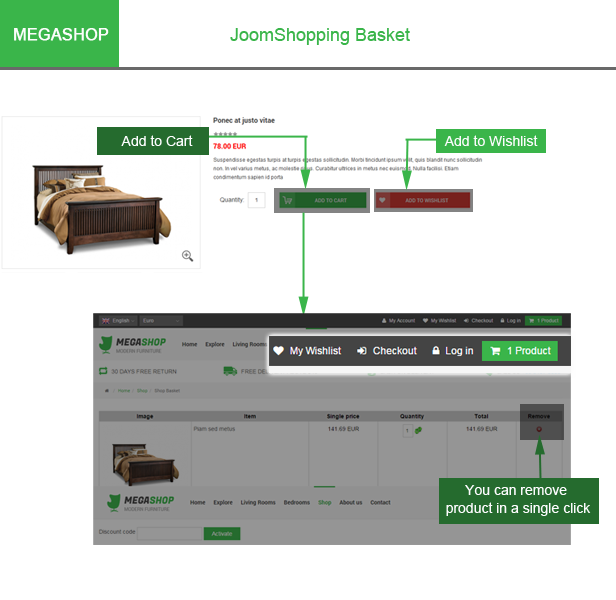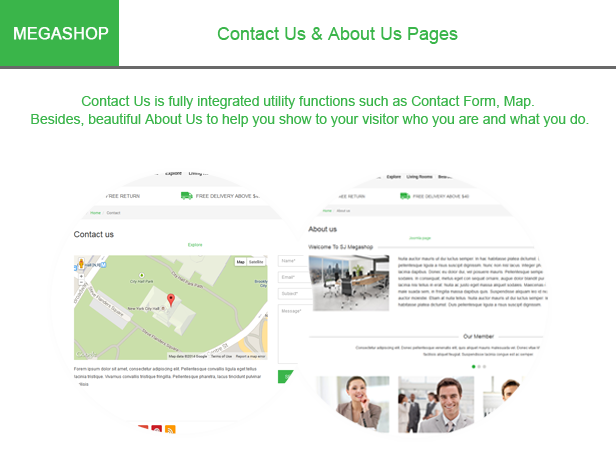 WHAT ARE INCLUDED?
MegaShop Template Package
Use this package to install on your current site
QuickStart Installation Package
This package includes template, modules, plugins and sample data. By using this package, you will have a complete site look like demo site.
Extension Packages
Modules and plugins used for the demo.
PSD Sources
All PSD design templates
Full Documentation
Detailed documentation to configure template
CHANGELOG
VERSION 4.1.0 : Released on 10 Mar, 2022
- Upgraded to Joomla 4.1.0
VERSION 4.0.0 : Released on 14 December, 2021
- Upgraded to Joomla 4.0.4
VERSION 3.10 : Released on 24 September, 2021
- Updated to Joomla 3.10.2
VERSION 3.9.28 : Released on 05 August, 2021
- Updated to Joomla 3.9.28
VERSION 3.9.25 : Released on 18 March, 2021
- Updated to Joomla 3.9.25
VERSION 3.9.24 : Released on 20 January, 2021
- Updated to Joomla 3.9.24
VERSION 3.9.20 : Released on 10 August, 2020
- Updated to Joomla 3.9.20
VERSION 3.9.19 : Released on 11 June, 2020
- Updated to Joomla 3.9.19
VERSION 3.9.16 : Released on 30 March, 2020
- Updated to Joomla 3.9.16
- Compatible with PHP 7.4
VERSION 3.9.0: Released on 12 Dec, 2018
- Update template for Joomla 3.9
VERSION 1.3.4: Released on 09 June, 2017
- Updated to Joomla 3.7.2

VERSION 1.3.2 - Released on 07 Feb, 2017
- Fixed bug: menu displaying on mobile devices

VERSION 1.3.1 - Released on 17 Oct, 2016
- Fixed bug: layout broken when update to Joomla 3.6.0

VERSION 1.3.0 - Released on 15 August, 2016
- Upgraded to Joomla 3.6

VERSION 1.1.2 - Released on 17 February, 2016
# Fixed bug:  Some tables in database lacks of AUTO_INCREMENT in id (both in Menu table and tables incom_joomshopping) wwhen installing Quickstart file
VERSION 1.1.2 - Released on 28 June, 2015
- Upgraded to Joomla 3.4.1
# Fixed bug: prettyPhoto XSS
VERSION 1.1.1: Released on 04 February, 2015
+ Updated with SJ Twitter Slider version 1.0.1
VERSION 1.0.0: Released on 25 Nov, 2014
- Initial release