Demo Apk:
https://drive.google.com/file/d/14vt8XEduCe7VdJxjlR4CuLYrQs1VS7Pr/view?usp=sharing
What Does This Project Do?
With this project, you can create skin applications for the popular game minecraft. Users download skins to their phones via the app and change the appearance of their characters by importing them into their Minecraft account.
You can follow the links below for similar applications on Google Play.
https://play.google.com/store/apps/details?id=com.kitoved.skmine.topsfm
https://play.google.com/store/apps/details?id=com.my.minecraftskins
https://play.google.com/store/apps/details?id=com.suwarni.fridaynightmcpe
What other features ?
All skins are stored in firebase storage. No additional server expense is required.
Skins can be viewed in 3D and moved.
It has the architecture of Minecraft and a convenient interface of your design.
OneSignal has been added so that you can send a notification.
What is the Revenue Model of the App?
The application contains Admob banner and interstitial. You can make money by adding your own ad codes.
Is Code Information Required to Reskin the Project?
No, no code information is required. But you need to be able to use Android Studio. You will receive a detailed reskin document. Everything you need to do is explained here in detail.
Need help with Reskin?
If you want, I can reskin the project for you at an cheap price. Please check my fiverr profile. https://www.fiverr.com/awoapp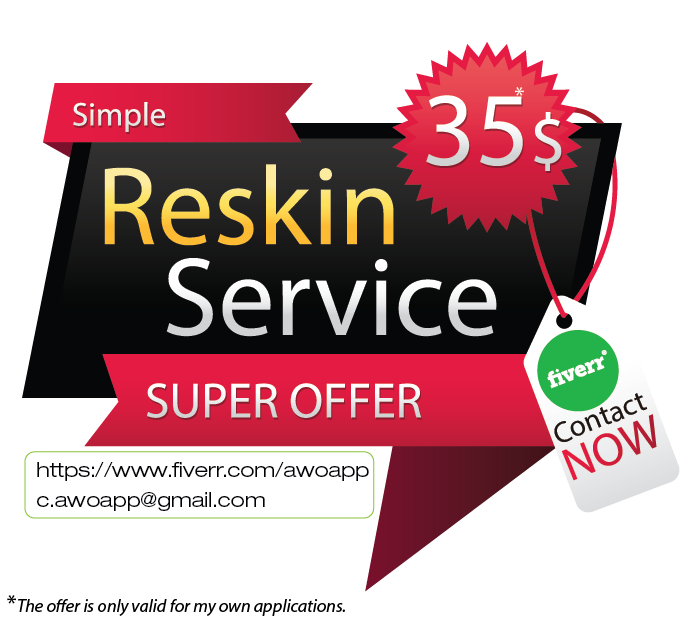 Change Log
V1 19.11.2021 
•First Release!