Build an Attractive My Account Page with WooCommerce User Dashboard Plugin!
You can turn your old "My Account" pages into a full-featured, modern, & attractive space where your customers can engage & spend quality time on your website. The WooCommerce user dashboard Plugin allows you to add widgets, wish lists, rewards points, downloads, & store credits where users can smoothly jump to any section.
Furthermore, you can show your customers purchases & downloads in an easy-to-scan list where they can go through their recent activities at a glance.
DEMO Link :DEMO
Features of WooCommerce Account Dashboard Plugin
Customize the My Account page for store users.
Enable widgets for orders, downloads, wish lists, and more.
Quick Access: Display large icons for commonly-accessed links.
Display avatar and user info in an attractive widget.
Showcase recent downloads, orders, etc. in a table.
Create new endpoints with respect to user roles.
Choose from multiple layouts for My Account page menus.
Customize My Account pages for better UX
Customize WooCommerce account dashboard and enrich the customer experience by adding easy-to-use navigational links.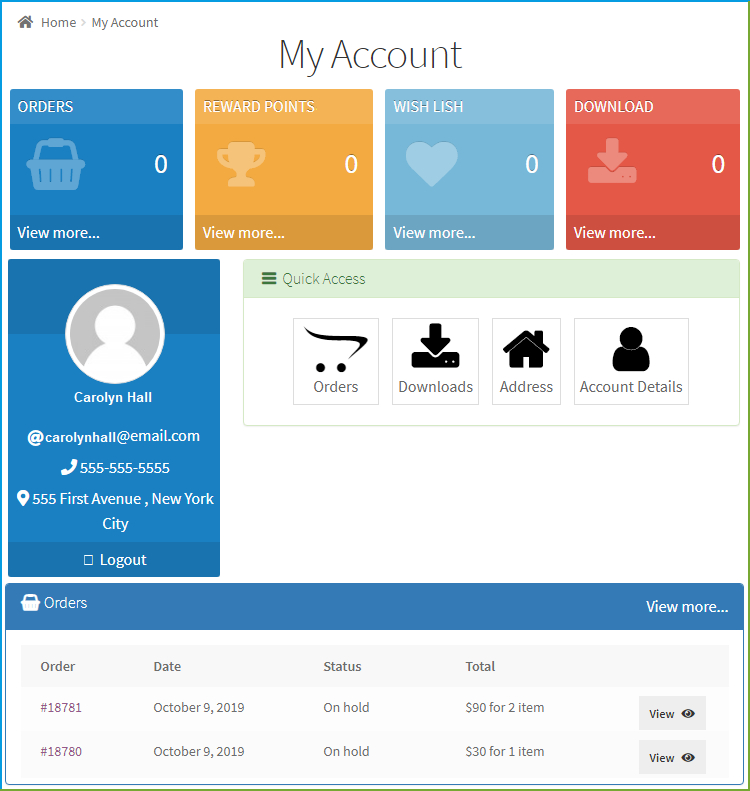 Display My Account sections visually
Show customers their orders, downloads, wish lists, reward points, and more in eye-catching, attractive cards.
Enable Quick Access
Help customers find what they need fast with icons that offer quick access to their account info.

Display Essential Customer Info on Tables
With WooCommerce my account dashboard, you can display the recent orders, downloads, wish lists, and more in a table so customers can see all their interactions with you in one packed spot.m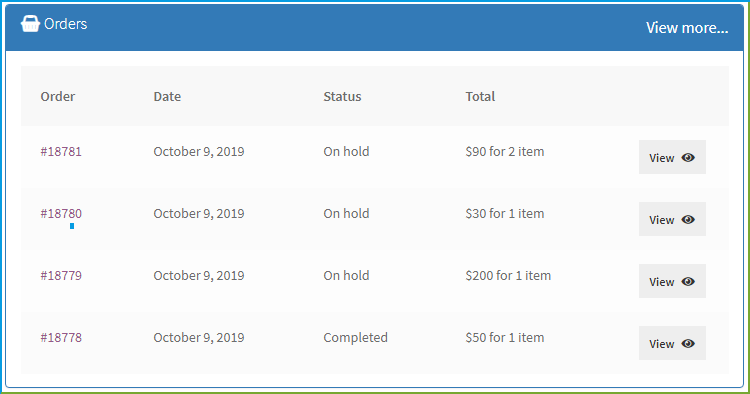 Display Profile Info with a Widget
Encourage customers to keep their profiles up to date by displaying their info in a customizable widget.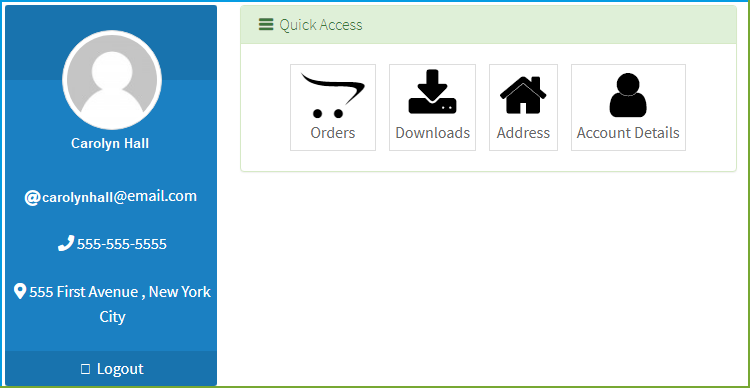 Create Additional Endpoints
With WooCommerce account dashboard plugin, you can create new endpoints based on user roles. You can edit the content of endpoints with a WYSIWYG editor and include links.
Update Account Pages with a Shortcode
You can display the revamped My Account dashboard in the default dashboard tab by copying the short code (i.e., [account dashboard]).